Okay, now we move onto more ergonomic and comfy workstations.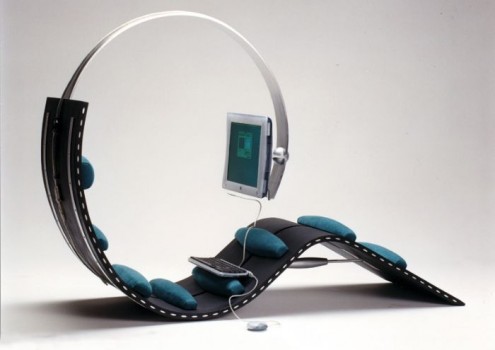 Winner of "Best Product" – Internet Collection, Scandinavian Furniture Fair 2000, Copenhagen, the 'Surf Chair' by Kenneth Lylover looks comfortable and appealing.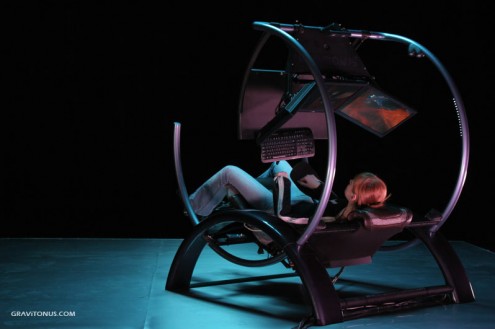 We are at a loss of words to describe how cool this workstation might be. Designed by a team of medical researchers studying spinal cord injury, the Gravitonus looks like one heck of a chair to have. It automatically analyses the position of the body, measures local temperature and pressure of different body parts and gently rotates the frame so that you have the least possible stress on your back . Also features a 5.1 surround with a subwoofer integrated into the backseat.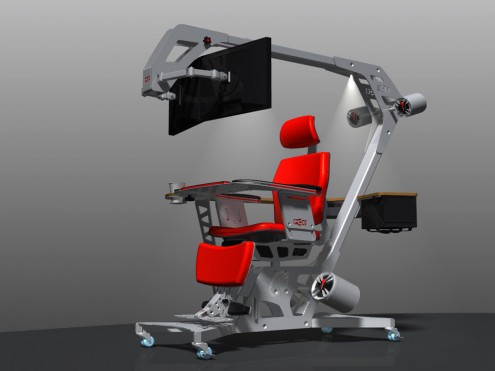 One person's ultimate gaming environment is another's ergonomic workstation or personal home theater. Here is a concept from PCE that supports upto 3 monitors fully adjustable from footrest position to monitor viewing angle.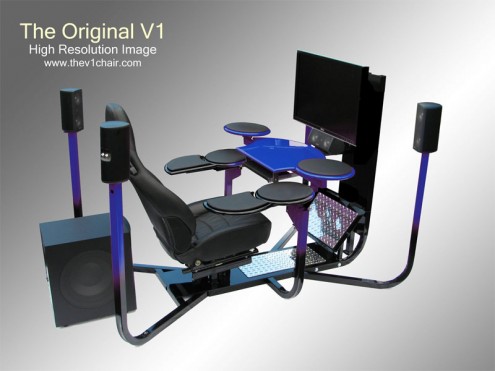 Coming with a 2.1 speaker and height-adjustable flat-screen monitor support, the V1 ergonomic computer desk is ready for any game you want to throw at it. In the makers works, 'the V1 computer desk can be used as a computer gaming chair, flight simulator, racing simulator, cad workstation, video editing workstation, sound editing workstation, personal movie theater, surround sound music environment and more.' Price: $1700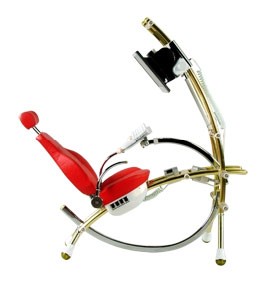 This unit from Nethrone nestles users in a multi- positional cradle-like environment, complete with an adjustable reclining vibrating seat, keyboard/joystick, dual mouse position armrest, neck cushion and dual footrest position. Each unit is equipped with an adjustable monitor lift and tilt support as well as frame support for a VGA box, Apple's Mac mini and Sony`s PS2, users can insert their units into a slot behind their LCD monitor.

The Zero Gee Ergonomic Workstation from Vision Ltd is one of our personal favourites and it just makes us sleepy watching this chair. This is a state-of-the-art recliner with a computer attached and is perfect for both home and office. Warning! It tempts you to take that much needed nap between deadlines!